Prospectus
Achieve through
Challenge, Celebration
Excellence and Enjoyment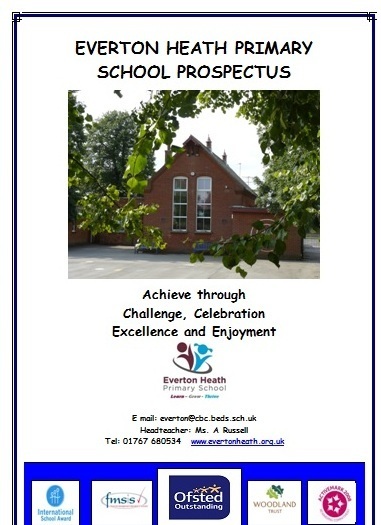 Dear Parents/Carers
Welcome to Everton Heath Primary School. We are a small village school set in rural Bedfordshire who became a Primary School in September 2017. We cater for up to 70 children in the main school and an additional 12 children at the on site 'Evertots' Pre School.
Everton benefits from small classes run by a strong dedicated team. As a result, standards are well above national averages and achievements are consistently good.
We provide a broad and balanced curriculum with many opportunities for enrichment both during the school day and in the wide and varied after school clubs which include: Football, Multi skills, Choir, Guitar, French and Make and Create.
In our most recent Ofsted Inspection (2011) the school was judged to be OUTSTANDING. The report highlights the fact that:
• Pupil's feel secure and happy.
• They enjoy school and appreciate the fact that 'everyone is kind'.
• There is a very good level of care for individual pupils, including those with learning difficulties.
• Parents' views are very positive, many feeling that the small school environment and high expectations give their children an ideal start to their education.
We are extremely fortunate to have our own heated swimming pool and an exciting outdoor learning space.
Parents are very supportive of the school. This partnership between home and school means all children have the opportunity to achieve their individual potential in a supportive and encouraging environment.
The staff and Governors believe that Every Person Matters and will strive to continue to develop positive partnerships with families, the community and the extended schools. We will provide the best opportunities for all children to enjoy, achieve and in the process feel valuable members of the local and global community.
We hope you find the booklet helpful and that by the end of it you will have a clear understanding of our philosophy and aims which are so vital in all children's learning.
Visitors are always welcome to the school. Please contact Mrs Kirby in the school office to make an appointment.
We look forward to meeting you.
Aileen Russell
Head teacher