Newsletters
Everton Lower School NEWSLETTERS are published weekly and distributed to parents by email.
For more information about the weekly Newsletter and how you register to receive it, please speak to a member of staff.
Read the LATEST NEWSLETTER here

Sickness Guidance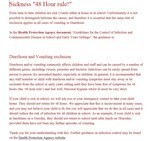 To read all the Newsletters for the last and current school year, click on the links below.
Spring 2018 Newsletters
Spring 2017 Newsletters
Autumn 2016 Newsletters
Summer 2016 Newsletters
Spring 2016 Newsletters
Autumn 2015 Newsletters
Spring 2015 Newsletters
Autumn 2014 Newsletters
At the start of each term the Everton Lower School Information NEWS is published. Click on the image below.