Evertots Pre-School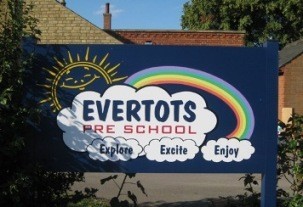 Dear Parents/Carers
Firstly, thank you for your interest in Evertots, Everton's very own village Pre-school.
At Evertots we understand that starting 'big school' can be an anxious time for you and your child. This is why we work with your family before you join us, inviting you to see us in action as well as visiting you in your own home. We recognize that you, as parents/carers, know your child better than anyone else, and actively seek your involvement in all aspects of their early education.
Being part of Everton Lower School means that we have adopted many of its principles and values. Being part of a larger learning community means that we have access to a wide range of resources and expertise. It also means that you and your family will have the opportunity to participate in a wider range of celebrations and events.
Evertots opened in September 2010 and runs daily sessions for up to 15 children. By keeping numbers low we are able to provide a supportive environment that is tailored to your child's needs. By adopting a play-based curriculum, your child is able to develop and learn by exploring things that interest and excite them, at their own pace.
We look forward to working with you.
Mrs Hayley Smith We have a few spaces available for Pre-
Pre-School Leader School in September 2016.
We are holding an 'Open Day' for
Click on the image below for more Pre-School information prospective parents and children on Tuesday 17th May 2016. All welcome!