Welcome
Welcome to Everton Heath Primary School's website. We hope that you find the information on our website useful and that it gives you a flavour of our school. Previously known as Everton Lower School we became a Primary School in September 2017.
Everton Heath Primary School is a small, friendly village school set in rural Bedfordshire which was judged to be outstanding by Ofsted in October 2011.

Everton Heath offers children a safe, secure and caring environment in which to learn. Our positive ethos and family feel helps to fully support and encourages children to fully achieve their potential. Our inspiring curriculum and highly-effective teaching, enables children to develop and mature in their understanding.
We have a very successful pre-school called Evertots and details about them can be found here.

Overall key strengths of our school are:
Pupils make excellent progress

We have a warm and friendly atmosphere in all areas

Care, guidance and support are extremely strong, so pupils behave superbly well and are mature, sensible and enthusiastic learners

Our imaginative and creative curriculum meets the needs of all our pupils very well
As you can see from our website, Everton Heath Primary School is a wonderful place to be! If you would like to visit us in order to see this for yourself, simply contact the school office on 01767 680534 or email at everton@cbc.beds.sch.uk.
Please contact the school office to find out our current school places available for specific year groups.
We look forward to meeting you.

Ms. Aileen Russell Mr. Nabeel Mardi
Headteacher Chair of Governors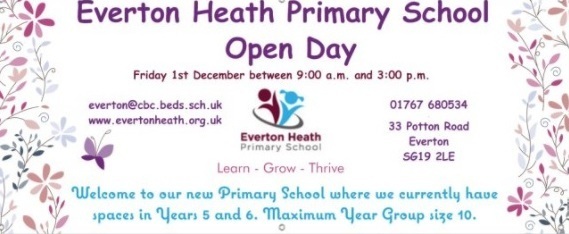 Governance
We currently have a vacancy for a parent governor to join our Governing Board. Please find the details here.
Achieve through Challenge, Celebration, Excellence & Enjoyment